Life on bikes from 73 to 82.
---
As you can see, one of my passions, is Motocross, however, I have not raced since 1982. But luv watching it on ESPN!!! I still have a Honda CR250R, but it is rather disassembled, have toyed with the idea of putting it back together and run in the "Old Timer's Class", for senior citizens....lol. Will be tuff to get back in shape, but it is a possibility.... I have some neat photos of a early model Honda-wanna-be-Mugen that I rode, beautiful bike, in it's time. And along with many of my opponents, including some that went on to gain National notoriety. They are in an album that I hope will reappear one day...
WOW!!! TIME HAS FLOWN BY! That was written in 95 when I did my first web site. During the winter of 98, the Honda came back together with the help of 4 long time friends; Gary assisted with the assembly, Ron Gibbs of Honda House and Leatha Jeffers of Cycle Land helped in getting the parts that I needed, and finally, Jim Hayes, the master mechanic and friend that I have know for nearly 30 years, brought her back to life after I put the float in up-side down, gave her a thorough inspection and me a BIG to-do list.
Anyhow, here is a few shots and a little history from the old days.


1974 on a 73 SL100 at Richmond Dragway, notice the brake pedal dragging by the brake arm in the left picture, who needs brakes on a 4 stroke anyway, finished 3rd in a class of about 24 2-strokers.

June 1975, 74 Yamaha TX500A, left to right, me, Leif, Unnar (brothers), and Dad. On August 21st, a drunk driver made a left turn into my path, nearly 9 months of the following year was spent in the hospital.

April 1978, just 1 or 2 months after getting back into racing. Made friends quickly, with William "Zow" Thompson. He also proves the old saying, "If there is a Bultaco Rider around, watch your back...".

1978 in Novice 250 on my first CR at Cedar Ridge, VA.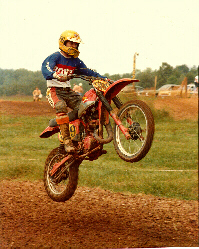 1979, 250 Amateur Division at SME MX Park, Dillwyn, VA.

Frequent Flyer Miles.

Going for the inside line for a holeshot. Both shots from SME.

Budds Creek, MD. on 79 YZ125F.

Winter 79, Practicing at Enon Church near Hopewell.

A wet and muddy day at Cedar Ridge.
1980 in Expert Class, by then, I had 3 CR's, this one had a few trick items from that period. Simons Forks, FOX AirShox, DG Swing Arm, Pro-Tec Chain Tensioner, Clarke Tank, 17" Rear Wheel for Mud/Sand conditions, Magura Throttle, Boyesen Reeds, and FOX Motor Mounts. Shots taken at White Oak by Bill Butcher, click here to go to his site.
Late 1980 on House of Yamaha sponsored YZ250G. First shot taken at Cedar Ridge. Second at SME.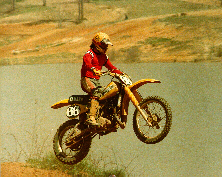 1981, AMA Nat'l Qualifier at Lake Sugar Tree, Va. on a YZ250G.

Late 1981, after knee surgery and trying to recover financially, the backup CR is transformed into a Mugen Wanna Be, added the transmission kit, but never got to the 360 cylinder.

Taken at Cedar Ridge, I finished 2nd in a mud race with a walking cast on my right leg. Got fired from House of Yamaha for doing so on a Honda..............lol

Taken at Enon Church Rd practice track, Hopewell, VA

The last win before retiring in 1982. 3rd gear starts guaranteed a holeshot. Taken at SME by Billy Covitz.

The ME250R at White Oak, I believe this was my last race in early 82.

Homepage Store Pictures of Family, MX Past, MX Present, Friends, District 13 Riders 78 to 82, Links & Information Projects and Rebuilds ScoreBoard
---
Updated: 08/18/2017
Web Master: Thor Lawson LtThorę1995-2017