Thor Lawson's -- Evolution Suspension Products
Decals & Plates
ESP is an authorized vendor of Fox vintage decals that are no longer in production. The Fox Head and Fox Tail are registered trade marks of Fox Head Inc and Fox Racing Inc. Use, copy, sale, reproduction or publication in any form whether by decals, manuals, apparel or any other products without written permission of Fox Head Inc and Fox Racing Inc is forbidden by law and may lead to legal action.
Application Note, please read:
Decals are not 100% chemical resistant, exposure to solvents, degreasers, and lubricants used to free rusted hardware will damage them.
Some resistance to gasoline, continuous exposure will eventually damage the decal.
Resistant to oil and lubricants such as WD-40.
Before applying, make sure the application surface is cleaned of dirt, oil and waxes.
Most decals are supplied with a semi-transparent transfer film on top to aid in placement and to prevent finger printing on clear backgrounds,
after determining location and alignment, peel off backing. Start from one edge and work across, smoothing out as you lay the decal in place to prevent bubbling.
The plates and most decals on this site are manufactured for ESP by FastGuyStuff.com.
All of the items on this page can
be purchased at www.FastGuyStuff.com ,with the exception of decals featuring the Fox Head logo.
Additional Suspension Brands, Honda CR and Plate Backgrounds will be
added back as soon as I'm able to replenish inventory.
---
FOX Decals
Shock and Fork decals may be found on the respective store page.

, D-720..... $34.00

, D-111..... $14.00

, D-427..... $4.75 each






Fox Factory Large Decal, 4-3/8" x 3-1/4", D-110-LG..... $7.00 each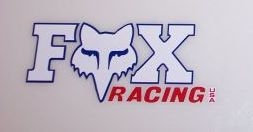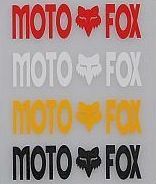 ---



( of 2 ), D-104..... $10.00

( of 2 ), D-75..... $10.00

( of 2 ), D-345..... $10.00
---
International Customers, please return to the main store page for shipping options before checkout. First class available for manuals and decals upon request. The difference in cost will be refunded after I mail your items.
---
Store Home Page | AirShox | Factory Shox | Gas Shox | MonoShock | TwinClicker | Factory Forx | Simons Forks | Decals | Manuals | Tools | Shop Rates | Customer Rides | Rebuilt and Restored | Links & Information

Homepage Pictures of Family, MX Past, MX Present, Friends, District 13 Riders 78 to 82 Projects ScoreBoard
Updated: 01/07/2016 Web Master: Thor Lawson LtThorę1995-2016
The images on this page are the property of ESP, unauthorized use without the permission of the owner is prohibited.